Crypto News
The best quantum wallets; QNT cryptocurrency wallet selection guide
QNT is a token on the Quant blockchain. This project was launched in June 2018 with the aim of connecting blockchain and networks on a global scale, without reducing the efficiency and interoperability of the network. Quant seeks to solve the problem of interoperability of blockchains by creating the first blockchain operating system. As the number of users and demand for QNT increases, more tokens are produced and circulated; Therefore, we are faced with more luck to buy and store this coin. In this article, we have introduced the best quantum wallets; We introduce the hardware and software wallets that have the possibility of stacking and go to the features, advantages and disadvantages of each one so that you can make an easier choice.
QNT Wallets
Quant is an ERC20 coin that runs on the Ethereum blockchain, which has helped it stand out in a wide variety of hardware and software wallets. To get to know more about this project and its native cryptocurrency, we suggest what is the content of quantum digital currency? read the
Next, we will introduce the best quantum wallets and examine them from different aspects.
The table below ranks each of the best QNT cryptocurrency wallets in terms of ease of use.
| Name of the wallet | ease of use |
| --- | --- |
| Walt Ledger | medium |
| Vault Treasure | hard |
| Trust Vault | simple |
| Atomic wallet | simple |
| Wallet MyEtherWallet | medium |
| Walt Metamask | simple |
| wallet imToken | simple |
The best quant wallets for staking
The past months have seen the Ethereum ecosystem transition from a Proof-of-Work (PoW) consensus mechanism to a Proof-of-Stake (PoS) consensus mechanism. Due to its economic advantage, this issue was noticed by the main players in the field of cryptocurrency.
With these comments, it's time to take a look at some of the best quant staking wallets. By choosing these wallets, you can stake your currency and periodically earn stable passive income.
If you are not familiar with how to buy and sell quant digital currency, read the article on the same topic published on Valx blog.
Walt Ledger
You need a compatible cryptocurrency wallet to store and manage Quant. Whether you want to keep your coins somewhere safe or manage them on a daily basis, Ledger is the right choice for you.
Ledger Nano S is the most popular hardware wallet with over 1 million units sold worldwide. This device is very popular due to its security and support for a wide range of coins.
Ledger has a desktop app that acts as an interface to the Ledger Nano S hardware wallet. Your private key, which is used to retrieve all crypto assets from the blockchain, is still stored offline in the Ledger Nano S.
Ledger Live is the only interface that allows you to send and receive coins, open accounts, and view your balances in quant ledger wallets.
Trust Wallet
Trust Wallet is a mobile wallet Free and non-custodial It is for storing digital currencies and non-fungible tokens (NFT). This wallet is classified as a hot wallet due to its direct connection to the Internet. The TrustWallet app is available for iOS and Android.
This wallet is a decentralized wallet that has the ability to store more than 4.5 million digital assets like quant and supports more than 65 blockchains. As one of the popular wallets, Quant has been downloaded more than 30 million times.
Although the Binance Trust wallet is compatible with various blockchains, it stands out from other popular wallets due to its compatibility with almost all blockchain-based platforms such as PancakeSwap.
Atomic wallet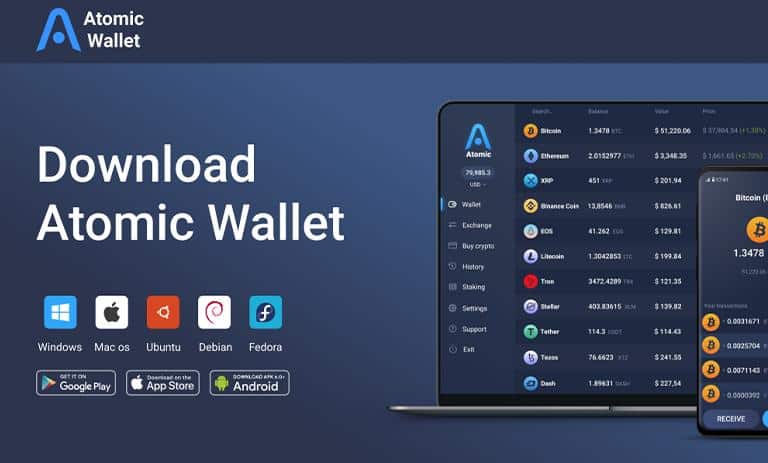 Atomic wallet is one of the quantum software wallets available in Windows, Mac, Ubuntu, Debian, Fedora, Android And iOS Available. This wallet is designed to help businesses and traders manage Bitcoin, Ethereum, Litecoin, XRP, Quant and other coins and tokens. The platform accepts euros, dollars and other fiat currencies in various countries around the world.
Atomic wallet allows staking of QNT, ATOM, Tezos, TRON, BAND, and other coins, which can be rewarded from 5 to 23%. This app allows users to control their funds and store their encrypted private keys. It also helps traders view their portfolio and price charts from within one platform.
MyEtherWallet
MyEtherWallet or MEW is one of the leading Ethereum wallets on the market that allows users to store Ether (ETH), ERC-20 tokens and non-fungible tokens (NFT) using its own multi-platform wallet. In addition, MEW users can buy, sell and exchange cryptocurrencies in the wallet interface.
This open source wallet also allows users to Smart contracts And Decentralized Applications (DApps) interact and provide full access to the Ethereum ecosystem.
MetaMask wallet
MetaMask offers services based on Ethereum. Like any other browser plugin, once installed, this wallet allows Ether and other ERC-20 tokens to be stored and the user can transact with any Ethereum address.
By connecting MetaMask to Ethereum-based dapps, users can spend their coins in-game, share tokens in staking applications, and trade them on decentralized exchanges (DEX). It will also allow users to log into decentralized finance, or DeFi, and be a way to access DeFi apps like Compound and PoolTogether.
You can use its mobile application on devices iOS Or download and use Android. Apart from its availability in Chrome browser and Firefox browser, MetaMask is now available in Brave browser as well as in Microsoft Edge.
wallet imToken
wallet ImToken Over the past few years, it has become one of the most popular quant wallets and a favorite among Ethereum and eth based token holders.
On their website, the ImToken wallet app is introduced as a multi-chain wallet where you can securely store assets and exchange coins freely. The website also adds that the bag is specially designed to reduce the need for users to access it. This wallet is recommended for keeping digital assets and daily use; Because you don't need to worry about private key security management.
ImToken wallet app is easy to use and very secure. Its key features include guidance in the account activation process and review of applied security measures.
The best quantum wallets for long-term storage of QNT digital currency
A hardware wallet, also known as a cold wallet, is an encrypted physical device that can only be used to access a portfolio of cryptocurrency.
Digital assets are stored in encrypted offline storage that is completely secure. In fact, there is no way for anyone else to access it except you. In this sense, hardware wallets act as a vault for your digital currency.
Since a hardware wallet only connects to the Internet to sign a transaction, it provides an additional layer of security and protection against external threats.
Trezor wallet
Trezor wallets with security features like Shamir Backup that can help you recover your assets if your device is lost, broken or stolen, set them apart from the competition. However, Trezor devices lack some functionality offered by rival Ledger or software wallets that easily connect to decentralized applications or dapps.
The standard version of Trezor, Model One, supports 1289 cryptocurrencies. Model T has a touch screen and supports 1456 compatible coins.
You can trade through Trezor's open source desktop application called Trezor Suite. Some advanced features require some technical knowledge. This device requires third-party software to manage NFTs or non-fungible tokens, and staking is only possible with the T model. Trezor also doesn't have a mobile app.
Vault Treasure has the best all-around performance in terms of features for the price. With this hardware wallet, QNT can be stored and kept offline and safe. If you are looking at the future of quantum digital currency and intend to hold it, Trezro is the best choice.
Using the exchange wallet as one of the quant wallets
If you are constantly engaged in digital currency trading, you can use the exchange wallet to store, withdraw and send your cryptocurrency assets like Quant. In fact, as one of Qant's wallets, Wallet Exchange can provide you with quick access to assets.
Choosing the best quantum wallets
In this article, we have introduced some of the best quantum wallets, each of which has its own unique capabilities and features. It may be difficult for you to choose. Therefore, in the table below, we have listed the advantages and disadvantages of each one so that it can be helpful in this direction.
| wallet | Advantages | Disadvantages |
| --- | --- | --- |
| Walt Ledger | Easy to set up and use, support over 1500 digital assets, portable, Bluetooth connectivity | expensive |
| Vault Treasure | Offline storage, highly secure, touch screen | Not being able to stack or manage NFTs, not being able to connect with Bluetooth, not having a mobile app |
| Trust Vault | User Friendly, Free, Open Source, Local Key Storage, Fast Transactions, Asset Tracking, Own Crypto Directory | No desktop version, old user interface, difficult review process |
| Atomic wallet | Simple, user-friendly, support atomic swap, support a wide range of coins, critical data is not stored by anyone but you | You are solely responsible for the security of your wallet, lack of compatibility with hardware wallets |
| Wallet MyEtherWallet | Ability to interact with smart contracts and decentralized applications (DApps), NFT management, non-custodial, support for Ethereum compatible networks such as Ethereum Classic, Binance Smart Chain and Polygon | Only supports digital assets running on Ethereum and Ethereum-compatible blockchains |
| Walt Metamsk | Open source, non-custodial, easy to use, supports all Ethereum tokens, has a popular browser version | It only supports the Ethereum blockchain |
| wallet imToken | Secure, with a built-in exchange, intuitive and beginner-friendly interface, non-custodial | Does not support security features such as two-factor authentication, does not support fiat deposits |
With the help of this table, you can make a comparison between the best types of quantum wallets so that you can choose an option to meet your needs in this crypto market. If you have experience with these wallets or know of better options for keeping coins, write to us.
Written by the best quantum wallets; Guide to choosing a QNT cryptocurrency wallet appeared first on Wallex Blog. appeared.