Crypto News
Token Pocket wallet training, introducing the Token Pocket wallet
Just as a tool is needed to maintain and maintain any device, we also need a special tool to maintain and secure cryptocurrencies. Digital currency wallets are tools designed for this purpose and are available as warm (software) and cold (hardware) wallets. Due to the fact that choosing a suitable and safe wallet among the available wallets can be a difficult task, we decided to introduce and review the Token Pocket wallet in this article in order to learn more about its features, advantages and disadvantages.
Introducing the Token Pocket wallet
One wallet token wallet Decentralized And open source It is available in mobile versions, desktop wallet and Google Chrome extension. In addition to having a hot wallet, this wallet also has a cold wallet known as KeyPal.
Token envelope from Prominent and widely used blockchains BNB China supports Ethereum, Bitcoin, Tron, Solana, Phantom, Polkadata and EOS. Of course, Token Pocket also supports lesser-known networks, which you can see in the image below.
It is interesting to know that Wallet Wallet is owned by the large Chinese holding company Tencent, which includes sub-groups in the fields of media, entertainment, internet and mobile services, and also provides online advertising services in China.
Getting started and creating a user account in token wallet
After downloading the Token Pocket application, follow the steps below to create a wallet:
1. Open the Token Pocket application, click on the No wallet option.
2. Select the blockchain network you want to create. (Take the Ethereum network as an example here). At this stage, you can see the complete list of blockchains covered by this wallet and select all of them.
3. Click on Create Wallet.
4. Set your wallet name and password and then check Terms of Service and Privacy. Click on Create Wallet to continue.
5. Enter the Backup Mnemonic page and then click I get it.
6. At this stage, a 12-word recovery phrase will be displayed for you. Try to keep this phrase in a safe place. Read the Attention section carefully and click on Completed Backup, Verify it.
7. In this step, fill in the recovery phrase in the desired place in order and then click on Confirm.
Your wallet is created and you can transfer your assets to it.
Deposit assets to Token Pocket wallet
Follow the steps below to deposit tokens or coins to the Token Pocket wallet:
1. Open the Token Pocket app, select the asset you want to transfer to the wallet on the Assets page. (For example, consider receiving TPT through the Binance network)
2. Click on Receive option.
3. At this stage, you need to copy the wallet address (you can click on Copy or Scan QR code) and then paste the copied address in the recipient address field on the withdrawal page of the exchange or source wallet.
The desired token or coin will be deposited into your wallet.
Withdraw assets from Token Pocket wallet
Withdrawal of assets from the Token Wallet is done according to the following instructions:
1. Open the Token Wallet app, select the cryptocurrency you want to transfer on the Assets page. (For example, consider the withdrawal of TPT on the Binance network)
2. Click on the Transfer option at the bottom of the page.
3. To transfer by address, select the Address Book option, and to transfer by scanning the QR code, select the Scan QR code option.
4. At this stage, you must enter the destination address in the Receiving address section and the amount of the property you intend to transfer in the Amount section. Then you select the transfer fee, usually choosing the average option is recommended. After completing all these steps, click on the Confirm button.
5. After checking the transfer information, click Transfer.
6. Enter the password and click Confirm.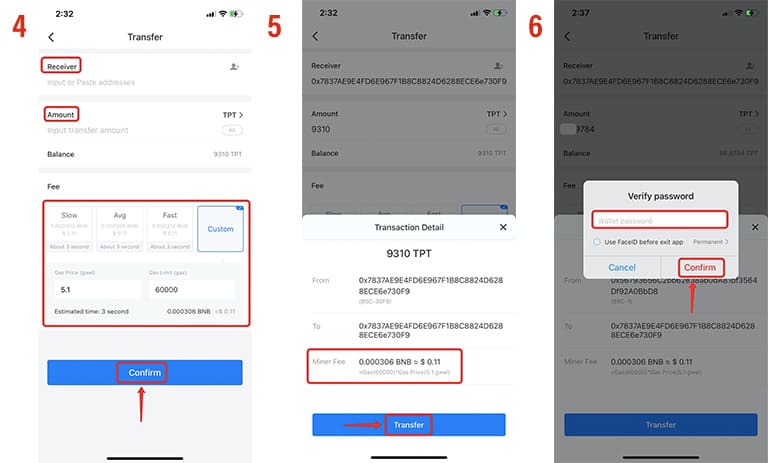 7. At the end, your property will be transferred to the destination address.
Advantages and disadvantages and features of the wallet token wallet
Volt Token Pocket The possibility of swiping tokens It provides users with different networks. In addition, it is possible to buy and sell tokens in widely used blockchains such as Ethereum and BNB China. Of course, like other wallets, it is not recommended to buy or sell tokens by Wallet Token Wallet, because buying and selling assets in wallets is subject to high fees. Therefore, it is better to use digital currency exchanges for this.
One of the interesting features of the state wallet token Bridge It is used if the user intends to transfer a token such as USDT between two different blockchains such as Ethereum and BNB China. It is worth noting that using this feature is not economical and users have to pay high fees to use Bridge.
One of the products introduced on the Token Pocket wallet website, Decentralized exchange and NFT market It is called Trasit, which provides the possibility of buying and selling cryptocurrency. Another product of this Volt is the 5degrees social network, which operates in a decentralized manner. These two products are called DApps Mobile application are available.
In Token Wallet mobile wallet, using the Discovery section, users can access the dAppstore in Token Wallet. This tool allows users to access dApps built on all blockchains supported by Wallet Token. If you're looking for a specific dApp, all you have to do is enter the dApp's website link in the address bar.
Like other wallets, staking is possible in the Token Pocket wallet. In addition to staking, the possibility of keeping NFTs is also provided for the user.
The disadvantages of this wallet include less supported networks than popular wallets such as Trust Wallet, Safe Pal and Coin98, while Coin98 supports more blockchains than other wallets.
Another negative point of using newer wallets such as token wallet is the lack of trust of users. Because digital currency users usually prefer to use well-known and reliable wallets.
Note that this wallet adheres to the implementation of the embargo, so be sure to follow safety precautions when using this wallet.
Wallet Token Wallet Security
Token Wallet, Volti non-custodial is. This means that the wallet token has no involvement in saving the user's password or recovery phrase. Therefore, he does not have access to this private and security information. According to this issue, if the recovery phrase is forgotten or lost, it is not possible for the user to access Volt.
In addition to the token envelope of the possibility of doing Multi-signature transaction It is used to increase the security of transactions. It also uses face and fingerprint recognition and users can enable it for more security Two-step authentication (2FA) in your application.
Wallet like other wallets
According to the explanations provided, the Token Pocket wallet does not have special and unique features compared to other wallets, and other wallets can also be used to store digital assets. This decision is completely personal and depends on the user and his needs.
But to answer the question, is this voltage suitable or not? You should download this volt and use it with safety precautions. Fortunately, with the development and growth of blockchain technology, many wallets are available and users can use them depending on their needs.
Written by Token Pocket wallet tutorial, introducing the Token Pocket wallet for the first time on Wallex blog. appeared.